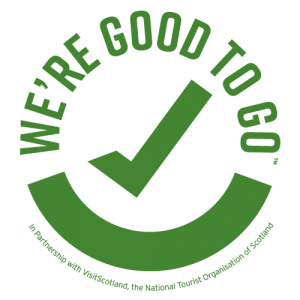 In compliance with industry best practice, a formal Risk Assessment for Covid-19 has been carried out at The Cabin and new cleaning protocols have been put in place.
These include, but are not limited to:
The use of PPE by our housekeeper (changed during cleaning to help prevent cross- contamination);
The removal of unnecessary soft furnishing such as bed throws and cushions;
The introduction of a two-stage cleaning AND disinfecting process;
The use on 'touch point' surfaces as recommended by the Scottish government (for example light switches, chairs and sofas, handrails etc.) of a food-safe and eco-friendly antiviral solution with the necessary EN14476 and Log4 reduction rate of 99.99%;
A free supply of this solution and hand sanitiser for guests.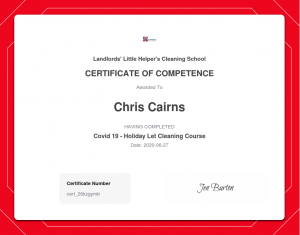 A detailed cleaning programme has been drawn up in consultation with our housekeeper and, as with the Risk Assessment itself, will be kept under review so that it accords with any updated Scottish Government guidelines.
While doing the best we can to provide a safe environment for your holiday, we must ask that guests themselves follow some simple instructions:
If you are concerned that you, anyone in your party or anyone you or they have been in recent contact with may have Covid-19, DO NOT TRAVEL. (The most recent government list of common symptoms include 'the recent onset of a continuous cough or high temperature or a loss of or change, in normal sense of taste or smell'.) We would ask that you familiarise yourself with the government's public information on Covid-19;
If you or one of the party develop symptoms while staying at The Cabin you must inform us immediately and, if possible, return home and self-isolate – as per government guidance. If someone develops acute breathing difficulties they should call 999;
Please use the hand-sanitiser provided and remove all outdoor footwear in our boot room each time you enter The Cabin. The hand sanitiser should be operated by using your elbow and not your hand;
On departure, please strip any beds used and bundle the bedclothes along with used towels and the oven gloves, and leave on the floor.
As you can appreciate, our housekeeper, Audrey, now has a great deal more to get done during each changeover. We would therefore ask that you make every effort to leave the premises by 10 am at the latest on your day of departure.
We apologise for any inconvenience this causes but we have kept any changes to our usual routine for guests to a minimum and hope they offer the reassurance necessary for you to enjoy a relaxing holiday at The Cabin.